Dr. Paul S. Kaase
September 28, 1922 - May 24, 2018
DR. PAUL S. KAASE, age 95, beloved husband of Edyie (nee Cole) (Ramage); father of Jill of Duluth, Georgia, Jon (Linda) of Peachtree Corners, Georgia, stepfather of Constance Rak (Bob) and John Ramage (Loreen Spuhler); grandfather of Brian (Courtney) of Bluffton, South Carolina and Austin (Ansley) of Smyrna, Georgia, and Jason Rak (Jacqueline Anderson); great-grandfather of Harper and Sutton of Bluffton, South Carolina; brother of the late Claire Wells; uncle and great-uncle of many.
U.S. Navy (Korean Conflict) veteran and U.S. Army veteran.
Dr. Kaase was a proud graduate of The Ohio State University and was a member of the "Best Damn Band in the Land."
After graduating from the Ohio State University College of Dentistry in 1946, he practiced dentistry until 1986 on the west side of Cleveland with his last office in Rocky River, Ohio. He was a part-time dentist at Sunny Acres T.B. Hospital (Cuyahoga Hospital System) from 1954-1986 practicing mostly oral surgery. Dr. Kaase was also a part-time dentist at the Ohio Veterans Hospital in Sandusky, Ohio from 1989-2001 and a full and part-time dentist at the Grafton Correctional Institution from 1989-2001. Dr. Kaase served as a clinical instructor at Remington College from 2004-2013 training dental assistants.
He was a member of the Cleveland Dental Society, Ohio State Dental Association, American Dental Association, the Delta Sigma Dental Fraternity and the West Shore Study Group.
Passed away May 24, 2018. Funeral Services for the family will be private. Friends may call at Chambers Funeral Home of North Olmsted, 29150 Lorain Road at Stearns Road, Tuesday 2-4 and 6-8 pm. Interment Evergreen Cemetery (Westlake). Memorial contributions are suggested to North Ridgeville Community Care Center, 34015 Center Ridge Road, North Ridgeville, Ohio 44039.
Paul was a member of the marching band in 1943 and played Trombone.
Duane Smith (OSUMB 1970-'73), head of the Ohio State Alumni Band of Greater Cleveland had this to say: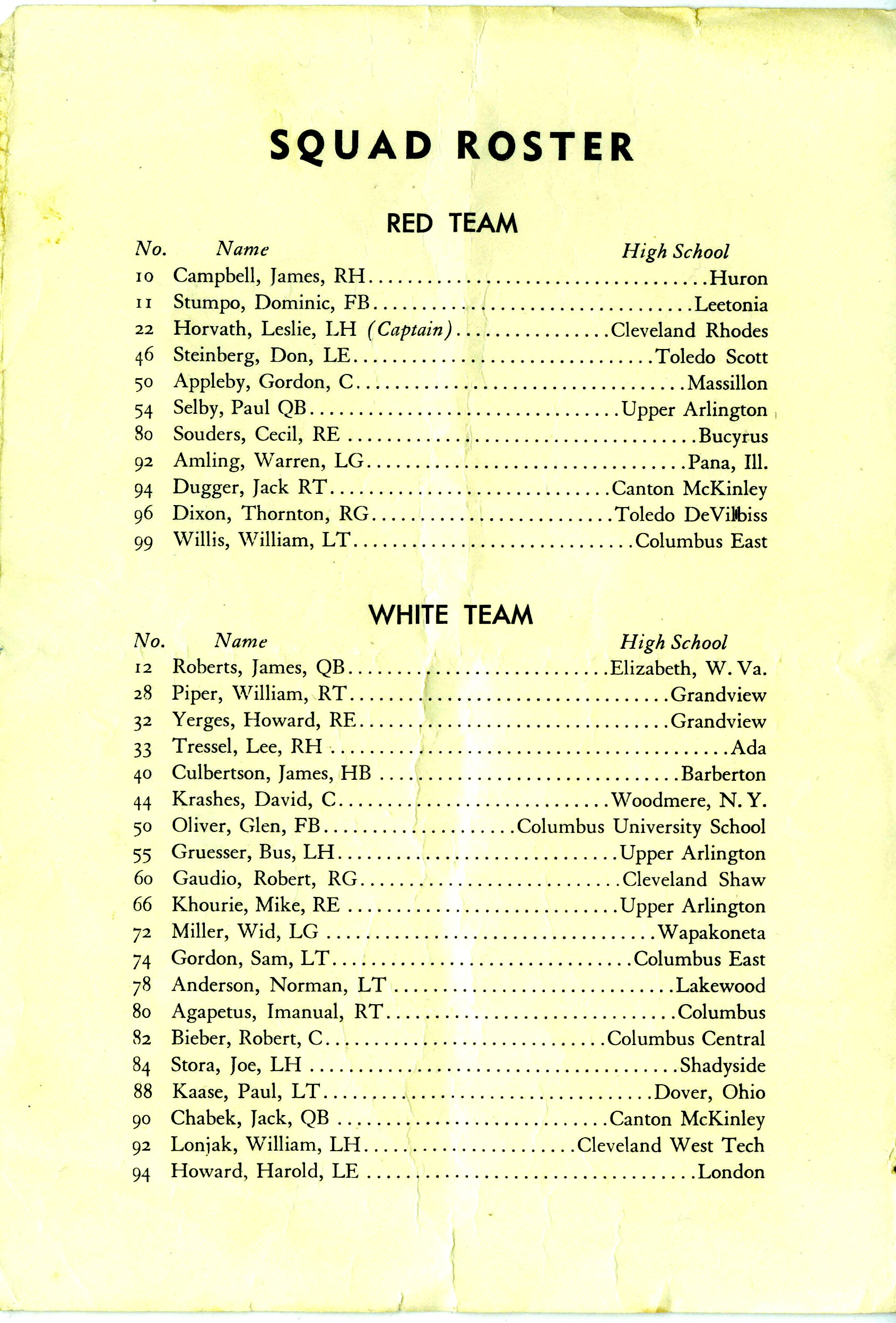 Dr. Paul Kaase was a special and enthusiastic member of our Ohio State Alumni Band of Greater Cleveland. When playing at our GameWatch parties, it seemed we could never play enough to keep him happy.
I met Paul in 2003 while organizing our band's appearance at the Cleveland Indians "Ohio State Day at Jacobs Field". A few years later a few of us were playing at a local sports bar for a road broadcast of the Buckeye Roundtable Show with Jim Lachey, Paul Keels when Paul started a story with "When I was on the football team...." That's how I found out that before Paul played in the OSU Marching Band that he was a left tackle on the 1943 Football team. Among his team mates on the football team were Heisman Trophy Winner Les Horvath, All-American Cy Souders, Dante Lavelli, and Lee Tressel. If you see that football roster on facebook, the Dover, Ohio is now called Westlake to avoid confusion with another Ohio city.
As Paul played at a time before facemasks, I had to ask this retired dentist if those were his own teeth. Without skipping a beat, his reply: "Yes... made 'em myself." His wife, Edyie, quickly gave him an elbow to the ribs to correct him as those were his original teeth.
God Bless You, Paul