Current Information and Events
Reunion Registration Now Open! Go to the Reunion Page with your TAG and click the registration link!
Limited Website
Due to high traffic levels, some areas on our website have temporarily been disabled. We apologize for any inconvenience.
Message from TBDBITL President Brian Golden (7/30/2014)
Dear TBDBITL Alumni,
This morning, Drum Major Shelley Graf, Legal Chair Gary J. Leppla, Director Emeritus Dr. Paul Droste and I came to Bricker Hall for a meeting with President Drake and Archie Griffin, President/CEO of The Ohio State University Alumni Association. Only I, as your president, was permitted in the meeting with President Drake and Archie Griffin so the three of us could discuss our concerns.
The meeting was very respectful. I had an opportunity to explain our position. And, we all agreed to continue further dialogue.
As we work through this difficult matter, we encourage you to continue your support of the OSUMB and Jonathan Waters in a respectful and mindful way. The Board of Governors will continue to work to review all information.
Respectfully submitted,
Brian J. Golden, President
TBDBITL Alumni Club
75th Anniversary SHIRT - Script Ohio
We have a number of these shirts available, in S, M, L, XL, XXL sizes. $12.00 each.
Click Here to download the order form.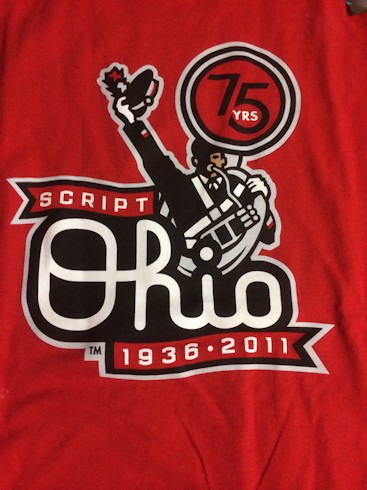 75th Anniversary Script Ohio Panoramic Photo
"Celebrating 75 Years" panoramic photograph available in unframed, framed, or deluxe framed editions and you may choose the exclusive signed editions by Dr. Jon Woods and/or Dr. Paul Droste, and/or Jon Waters. The photograph was taken of the Inaugural performance of the OSUMB with alumni in four full size Script Ohio formations on 9/3/11. Proceeds from the sale to benefit the TBDBITL Scholarship Fund.
Click Here to download the order form. The line items for the photographs are on page 2.
Click on the images below to view full-size: