Current Information and Events
Our annual Reunion will be held on September 12, 2015, at the OSU vs. Hawaii game. Reunion page now available!
TBDBITL 2015 France Itinerary
Click Here to download the latest trip itinerary!
TBDBITL Alumni Response to Montgomery Report
Click Here for the PDF document with the club's official response to the "Montgomery Report".
Fall TBDBITLetter Available!
Click Here for this and previous editions.
Past Press Releases and Statements
Click Here for all official TBDBITL press releases and statements following the dismissal of Jon Waters on July 24, 2014.
75th Anniversary SHIRT - Script Ohio
We have a number of these shirts available, $12.00 each
Click Here to download the order form.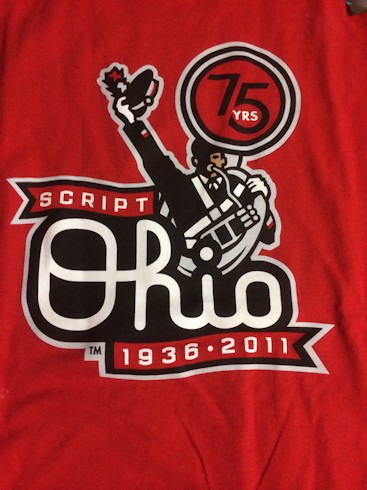 75th Anniversary Script Ohio Panoramic Photo
"Celebrating 75 Years" panoramic photograph available in unframed, framed, or deluxe framed editions and you may choose the exclusive signed editions by Dr. Jon Woods and/or Dr. Paul Droste, and/or Jon Waters. The photograph was taken of the Inaugural performance of the OSUMB with alumni in four full size Script Ohio formations on 9/3/11. Proceeds from the sale to benefit the TBDBITL Scholarship Fund.
Click Here to download the order form. The line items for the photographs are on page 2.
Click on the images below to view full-size: