2018 TBDBITL Reunion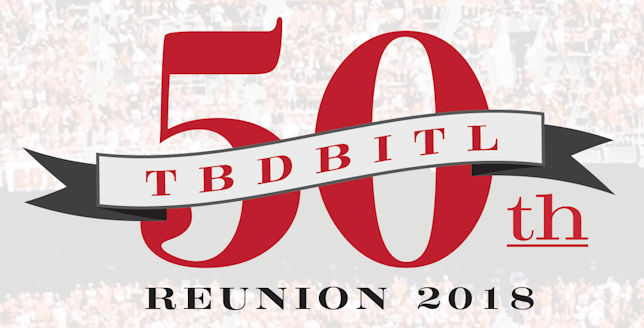 Our Annual Reunion will be held on September 22, 2018 at the OSU vs. Tulane game. Kickoff is (TBA)! This will be our 50th Annual Reunion (1966-1967, 1971-present).
Online Registration Status: OPEN!
Important Links:
Parking
MONDAY NIGHT REHEARSAL: **MUST PAY AT THE KIOSKS**. You must know your license plate number as this is how they verify your parking.
FRIDAY NIGHT REHEARSAL: **** PARKING IS FREE IF YOU PARK IN AN A, B, OR C SPOT IN THE **NORTH LOTS** OF FRENCH FIELD HOUSE/ST. JOHN ARENA ****. Do not park in any other area (including Parking Garages, ROTC, Ohio Stadium, etc. as you will be ticketed).
SATURDAY AM: Marching TBDBITL Members may park in any "DAY-OF-GAME Public" lot that is colored red on the "Download Football Parking Map" link on the following page: http://osu.campusparc.com/docs/default-source/maps/football-parking-map.pdf. The closest "DAY-OF-GAME" lots are at LANE AVENUE GARAGE, Fawcett Center, Ag Campus. As usual, you will be able to drop off large instruments at St. John Arena in the early AM. Please do not arrive earlier than 4:30 AM, and please do not move any parking barriers to gain access!!